Nordic skiing, which includes ski jumping as well as recreational cross-country skiing, is popular anywhere large snowfields exist. But in order to have a safe and enjoyable experience, the Nordic skier must have the proper equipment.

Nordic skis are long and thin, which distributes the skier's weight evenly and also allows the skier to move quickly. Typical Nordic skis are two meters in length, five centimeters in width, and anywhere from one to four centimeters in thickness. Skiers can be fitted to the skier for either height or weight, based upon the ski design and purpose.
Nordic skis have bindings, into which special cross-country shoes attach. The shoes are lightweight and somewhat narrow, with the profile of a running shoe, and attach only at the toe. The heel remains free. Since there are three different types of bindings, cross-country skiers must match their boots to their binding.
Cross-country skiers carry two poles, which can be made from fiberglass, aluminum, graphite, or carbon fiber. A spike at the end of the pole provides a fixed pivot when the pole penetrates to a hard surface. A basket, which is basically a plastic web or disc, provides some extra stability in the snow and ensures the pole doesn't sink too deeply into the snow. The poles are different lengths depending upon the skiing technique. Skiers who do skating or freestyle techniques are longer than those used in the classic technique.
The Nordic skier's clothing should also be carefully considered. A combination of polypropylene underlayers and waterproof and wind-resistant outerwear keeps the skier warm and dry. Warm, comfortable socks and mittens or gloves complete the cross-country skier's list of equipment.
---
Copyright © Zeducorp.
All rights reserved.

Nordic Skiing Guide - Nordic Skis - Cross-Country Ski Equipment
Related Images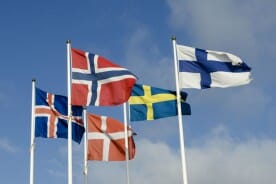 Nordic Country Flags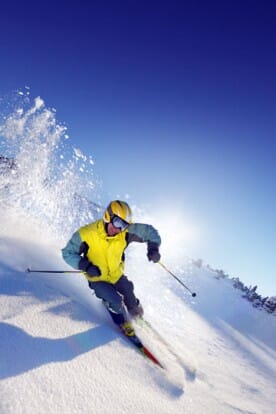 Downhill Skier Skiing Down A Ski Slope